What is the Difference Between a Dumpster and a Bin?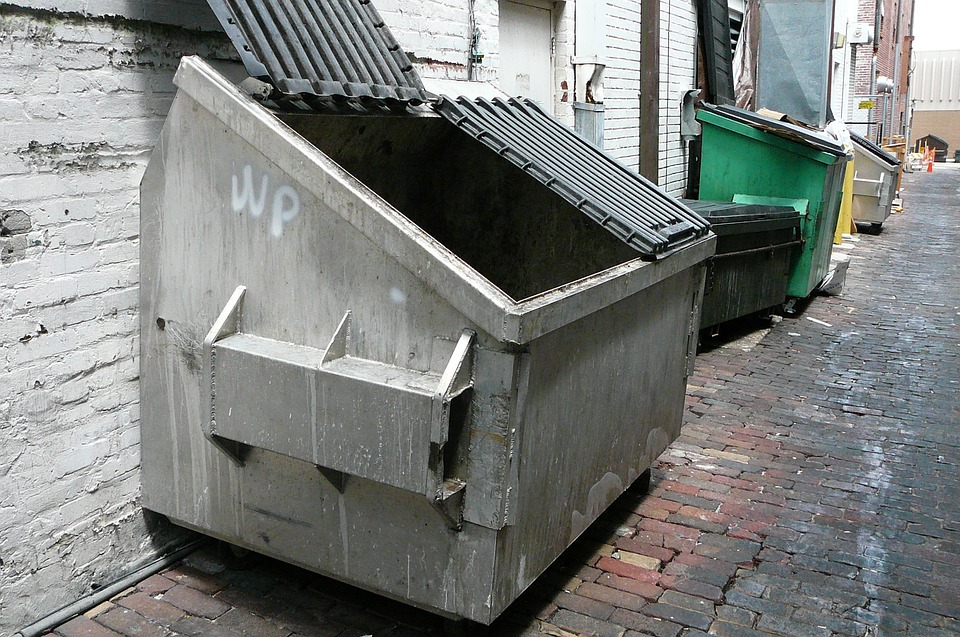 Dumpsters, bins and garbage cans are all similar things used to hold waste. They are often made of metal and designed to withstand the wear and tear of heavy waste materials.
Whether you're working on a construction project or need a short-term solution for excess waste, renting a dumpster is an easy and convenient option. Learn more about the different dumpster types to find which one best suits your needs.
Roll-off Dumpsters
A roll-off dumpster is a specialized trash container used on construction sites to properly handle large amounts of waste. It's a rectangular open-top trash container that's rolled onto the jobsite where it'll remain until it's filled with waste. Once it's full, the dumpster will be rolled off of the property and taken away for disposal by the dumpster rental company. This type of dumpster is available in a variety of sizes to accommodate a wide range of waste production. The size of the dumpster directly affects pricing, since different types of waste are transported to different facilities and landfills.
The main difference between a dumpster and a bin is that dumpsters are generally larger containers that are used for garbage, junk and construction debris. They're delivered and picked up on a regular basis by large trucks, and are the main choice for large commercial projects that produce a lot of waste. They're also the best choice for projects that require a short-term solution to excess waste production, such as a home renovation, office cleanup, or estate cleanout.
In addition to their bigger size, a roll-off dumpster is also typically rectangular rather than square, which allows for a much wider variety of sizes. These larger containers can hold anywhere from 10 to 40 cubic yards of waste and garbage, allowing them to easily accommodate all kinds of projects and waste materials. They're ideal for jobs that include kitchen remodels, garage renovations, room additions, and much more.
Another way that a roll-off dumpster differs from a standard trash bin is that it's typically equipped with fitted wheels so it can be moved around the jobsite, making it easier to load and unload waste products as needed. These wheels also allow the dumpster to be easily rolled off of and onto a truck for removal once it's full.
A key thing to keep in mind when using a roll-off dumpster is that the containers should never be overloaded, as doing so can damage the truck and make it unsafe for transportation. It's also against the law to transport an overloaded dumpster, and it may be subject to fines or even criminal charges.
Front Load Dumpsters
A front load dumpster is an excellent choice for businesses that produce a lot of waste on a daily basis. They are also useful for residential clean out projects and construction sites. They are usually placed on private property, but if you plan to place them on public land, such as an alleyway or street, it's important to check with local regulations to determine if a permit is required.
Front-load dumpsters are similar to roll-off containers, but they feature a different lid style. They are designed with a slanted top that opens at the lowest point, so trash can be loaded in easily and then flipped over. They have slots on the sides to fit the prongs of a garbage truck, and they are typically leased for long term use. You can find them behind business complexes, shopping centers and restaurants.
When it comes to comparing a front-load dumpster vs a roll-off bin, price is the primary factor for most people. The other factors are stability and accessibility. Front-load dumpsters are a great option for home DIY jobs, such as bathroom or kitchen remodels. They can also be used to clean up large piles of household junk, such as broken furniture or old appliances. They can be delivered to your driveway so you have convenient access to throw away the trash as you work.
Like roll-off dumpsters, front-load dumpsters are emptied on a regular schedule, such as weekly or bi-weekly. They are rolled onto the ground using a cable and winch system attached to the back of a large truck. A forklift-style lift then picks up the container and places it in a garbage truck, which hauls it away to be disposed of at a landfill.
Both front-load and roll-off dumpsters can be rented for residential or commercial use, but they must never contain dangerous materials. These include flammables, chemicals, paints, tires and petroleum products. It's a good idea to contact your local waste management company for a list of prohibited items. When you are ready to rent a dumpster for your business, contact Will Haul Dumpster Rental and Junk Removal and talk to a customer service representative about the types of dumpsters that are available.
Dumpster Bags
A dumpster is a large container on wheels that's used for trash, junk and debris. It has an open top, and it's a great choice for construction projects or any project that involves a lot of garbage. A bin, on the other hand, is a smaller version of a dumpster that's used to collect waste materials like garbage, trash, and recycling. Bins are usually used by small businesses, apartment complexes and homes.
Both a dumpster and a bin have their pros and cons, but which one is right for you? It all depends on the size of your project and the amount and type of waste you're throwing away. In most cases, a dumpster is the best option for large home improvement and construction projects. However, if your project is smaller, a bin may be more appropriate.
Dumpsters are a great option for commercial cleanouts because they have a wider range of sizes and can accommodate a variety of waste types. They also have a higher weight limit than bins, making them more suitable for larger and bulkier items. Additionally, a dumpster's slanting lid helps reduce odors and prevent pests from getting inside.
Bins, on the other hand, are ideal for office or retail cleanouts. They have a narrower range of sizes than dumpsters, but they're perfect for small home improvements and office cleanups. They're also more cost-effective than dumpsters, as they only require a one-time fee.
A bin is typically placed in a hard, flat surface, such as a driveway or jobsite. It can be delivered directly to your location, or you can pick it up yourself from a central drop-off point. It's important to keep in mind that not all materials can be placed in a bin for disposal, so be sure to check with your local waste management company for guidelines before filling your bin.
Dumpster bags are a good option for small projects, such as cleaning out your garage or organizing your closet. They're made of a tarp-like material with handles, and they can hold a surprising amount of debris. However, they have some limitations, including weight restrictions and the possibility of tearing if overfilled. In addition, they're not suitable for heavy items like concrete, brick, or dirt.
Bins
A dumpster, trash can or bin (in short, a waste container) is basically what it sounds like – a large metal trash receptacle that holds rubbish and other waste materials for disposal. It's commonly used on construction sites, commercial areas and even residential properties undergoing renovations or cleanouts. Dumpsters are usually emptied by garbage trucks and can be loaded with different types of waste materials. In short, dumpsters are the superheroes of waste removal.
The difference between a dumpster and a bin is that a bin typically contains household rubbish, while a dumpster can also contain other types of waste materials such as paper and plastics. A dumpster is also much larger than a bin, and is therefore more suitable for construction projects or events where a lot of waste will be generated.
However, when it comes to regular rubbish collection, a bin is more than enough for most households. There are many benefits to having a garbage bin at home, including convenience, efficiency and cleanliness. You can find a range of different size bins, from small to large, so there's bound to be one that's perfect for your needs.
Whether you choose a dumpster, skip or garbage bin, the most important thing is to ensure that it's the right size for your waste disposal requirements. Having the wrong-sized waste container will result in you paying for unused space, and it could also damage the container or the surrounding area.
Another important consideration is that you must ensure that your trash bin is secure to prevent unauthorized access and theft. You can achieve this by using lockable lids or by securing the bin to a sturdy base.
When it comes to rubbish, you can't put anything into a bin that's hazardous, illegal or toxic. These items are often referred to as litter and can cause environmental harm if they're not collected and disposed of properly. Aside from these exceptions, you can throw most items into your waste containers if they're safe to do so. Just make sure that you empty your waste containers regularly so they don't overflow and become unsightly.
Dumpsters, bins and garbage cans are all similar things used to hold waste. They are often made of metal and designed to withstand the wear and tear of heavy waste materials. Whether you're working on a construction project or need a short-term solution for excess waste, renting a dumpster is an easy and convenient option.…
Recent Comments
No comments to show.